The Ultra-thin LED ceiling panel light uses high quality Epistar SMD LED as light source. It's very bright with even light output. It occupy very limited space on the ceiling, so it makes the installation much easier and flexible. It apply constant current or constant voltage driving system with wide voltage range: AC100-240V. The size of opening hole can be made according to customers' request.
Product Features:
Energy saving up to 50%, very even light output
Light source: High quality SMD LED
Each group of LEDs work independently
Instant start, no flickering, no humming
3 year warranty
Applications:
Directly replace traditional ceiling lights or halogen down lights.
Photos: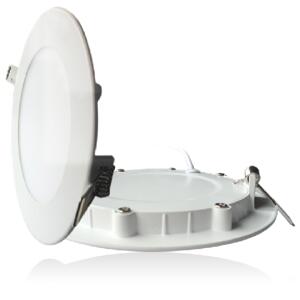 Technical datas:
Model
Wattage
Color Temp.
LED
brand
Lumens
Beam
angle
Hole
size
Dimension
HC-CP-R090-3W
3W
2800-3200K
3750-4250
5700-6500K
Epistar
225±10%
120°
Ø80mm
Φ90mm
H:11mm
HC-CP-R120-6W
6W
2800-3200K
3750-4250
5700-6500K
Epistar
450±10%
120°
Ø110mm
Ø120
H:11mm
HC-CP-R145-9W
9W
2800-3200K
3750-4250
5700-6500K
Epistar
700±10%
120°
Ø135mm
Ø145 H:11mm
HC-CP-R175-12W
12W
2800-3200K
3750-4250
5700-6500K
Epistar
900±10%
120°
Ø165mm
Ø175 H:11mm
HC-CP-R195-15W
15W
2800-3200K
3750-4250
5700-6500K
Epistar
1150±10%
120°
Ø185mm
Ø195 H:11mm
HC-CP-R225-18W
18W
2800-3200K
3750-4250
5700-6500K
Epistar
1350±10%
120°
Ø215mm
Ø225 H:11mm
HC-CP-R300-24W
24W
2800-3200K
3750-4250
5700-6500K
Epistar
1800±10%
120°
Ø285mm
Ø300 H:11mm
Light Distribution Graph: