This is the 3rd generation intelligent LED batten lights manufactured by Haichang Optotech. This linear light fittings are typically surface mounted by screw fix and have 2ft, 4ft, 5ft and 6ft lengths. This batten lights can also be suspended mounted by steel ropes to act as pendant light fixtures. It has unique robust design, integrated LED light source and are easily linkable to continuous row. This luminaire is a cost effective alternative to traditional T8 fluorescent light fittings and are typically used in wide applications in commercial and industrial lighting in public areas. With built-in Microwave sensor carrying detection angle of 120° and detection distance of 8m, this smart LED Batten lights brings cost effective and energy efficient solution to areas like parking lots, walkways, ATMs, factories and warehouse where dependable on-demand light is required.
Benefits of LED Batten lights:
Unique trending design
Microwave sensor built-in: detection angle 120°, detection distance: 8m
Starting time: <0.5sec
120Lm/watt, 80% lumen maintenance @6000H, Ra80
Premature failure rate @1000h: 0
Color consistency level: <6SDCM
Easily Daisy Chain up to 96m (320 feet)
Easy and fast installation
Housed by pure aluminum alloy, good heat dissipation, IP44
Sizes: 2ft, 4ft, 5ft, 6ft
No decrease of light output in cold areas
Trending optical design, Fireproof PC cover, Beam angle 120°
50,000 hours lifespan, Energy saving 50-80%
Solid-state, high shock resistant. No flickering.
Compliant with CE, RoHS
3 years Warranty
Dimensions:

Model
Length (A)
(mm)
Width (B)
(mm)
Height (C)
mm
2ft/600mm
600
72
38
4ft/1200mm
1200
72
38
5ft/1500mm
1500
72
38
6ft/1800mm
1800
72
38
Technical Descriptions:
PF>0.93, THD<15%
Power Efficiency≧0.88
Temperature:
Operating -20~+40℃
Storage -40~+60℃
Model
Tube
Dimension
Power
Input
voltage
CCT
Lumens
100LM/W
Lumens
120LM/W
BL-GENIII-060W20-2835
0.6M(600*38*72mm)
20±1W
AC100~265V
2700-6500K
1900-2100LM
2300-2500LM
BL-GENIII-120W40-2835
1.2M(38*72*1200mm)
40±2W
AC100~265V
2700-6500K
3800-4100LM
4600-4900LM
BL-GENIII-150W60-2835
1.5M(38*72*1500mm)
60±5W
AC100~265V
2700-6500K
5800-6100LM
7000-7300LM
BL-GENIII-180W72-2835
1.8M38*72*1800mm)
72±6W
AC100~265V
2700-6500K
7100-7300LM
8500-8800LM
The maximum number of linkable continuous connection:
Input Voltage
Power
Length
Wire
Max Qty
(pcs)
230VAC
20W
600mm
2.5mm²
160
230VAC
40W
1200mm
2.5mm²
80
230VAC
60W
1500mm
2.5mm²
55
230VAC
62W
1800mm
2.5mm²
45
Applications:
The 3rd generation LED batten light is designed for application in residential and commercial lighting such as offices, meeting rooms, hotels, supermarkets, shopping malls, libraries, factories, warehouses, schools, colleges, airports, bus stations, theaters, MTR stations, Exhibition centers, Toll stations, Gymnasiums and other public areas.
Installation Guide
Download PDF about how to install LED batten light
See Video on how to install LED batten light to ceiling surface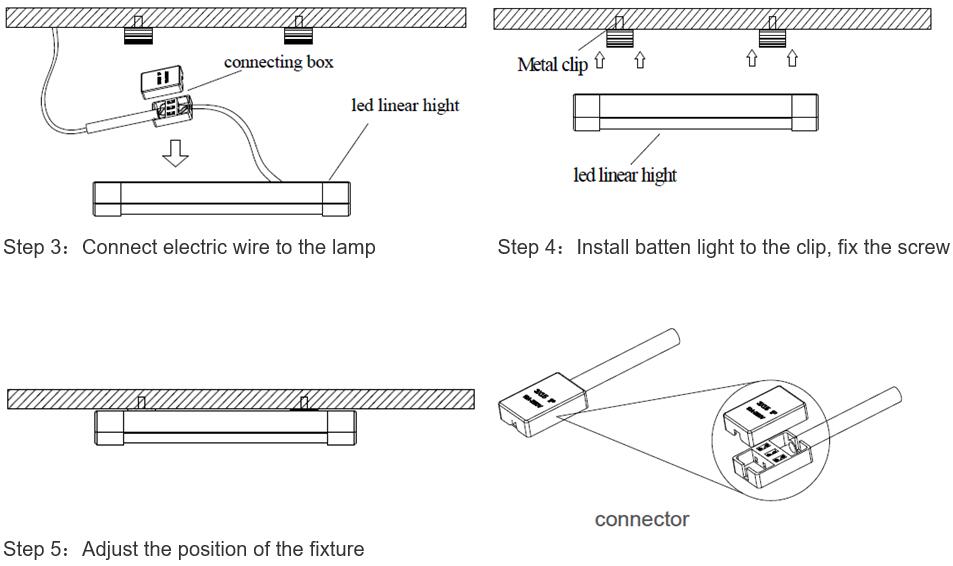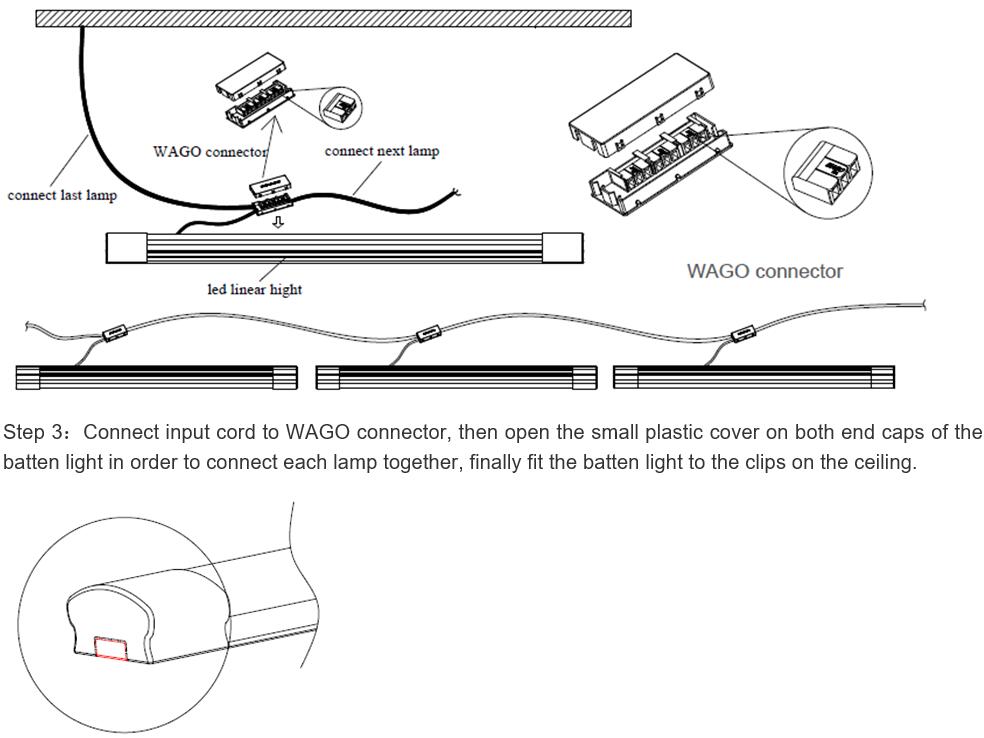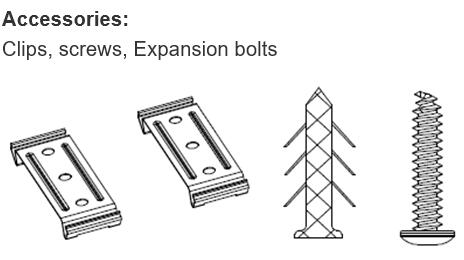 Packaging details:
Length
(mm)
Pieces/CTN
(pcs)
N.W. /pcs
(kg)
G.W./CTN
(kg)
2ft (600mm)
20
0.4
8.6
4ft (1200mm)
20
0.7
15.41
5ft (1500mm)
20
0.9
19.34
6ft (1800mm)
12
1
12.93